A reassuringly normal-looking boy answered the front door. After an agonising wait he showed us into an oak panelled study and the presence of a slight, stooping septegenarian in a tweed jacket with misty plastic-rimmed spectacles. As George Lyward stepped forward to take my hand in both of his, and hold it for longer than felt comfortable, I became aware of a formidable charisma.
"Hello" he said, looking at me piercingly for a moment over his glasses before adding softly "You're very lonely aren't you ?" I practically burst into tears on the spot. After all the drugs and psychiatric nonsense, here at last was someone who understood, saw at once where I was hurting and knew how to make the hurting stop. I instinctively trusted him with my life.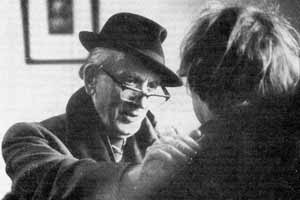 "After Tom had spent two hours with Lyward the boy was transformed" my dad noted in his diary at the time. Next came the scary bit - getting shown around by one of the boys and joining them for lunch. The house was rambling and dilapidated, the grounds extensive and mysterious. There was a rosegarden, a pond, a pigeon shed, cricket nets and croquet hoops, a cavernous hall, several grand pianos, two shacks stuffed with electronic junk and art materials, a well-used darkroom and even a pottery complete with woodfired kiln. Plus a full sized log cabin built for a bet. And everywhere these unkempt youths in tattered clothes like some bizarre alien tribe.